Welcome to the official website of
Danny Bryck!
For information about Accent Modification, Dialect Coaching, Public Speaking and Communication Skills Training and Acting Coaching, please visit Danny Bryck Coaching at www.dannybryckcoaching.com
 _________________________________________________________
Check out the official trailers for
The River and the Sea and
No Room for Wishing!
 _________________________________________________________
Current Projects:
Free staged reading of The River and the Sea, March 30 at 7:30 at New Repertory Theatre in Watertown, MA. Directed by Megan Sandberg-Zakian. The reading will be followed by a talkback discussion with the playwright. Call the Box Office at 617-923-8487 to reserve your complimentary spot. More info here.
United Story: Boston Beyond Today, a series of events using theatre, poetry, music, film and visual art based on stories from the community, to focus attention on police brutality, structural racism, and the uprisings in Ferguson and around the country. There will be events on February 28 at First Church Somerville, March 27 at the Multicultural Arts Center (part of the "We are…" Festival with the Poets' Theatre), and April 29 at the Boston Center for the Arts. Featuring cement, love, nothing else and Lucky, two short interview-based plays by Danny. Performances are followed by a facilitated discussion to strategize what we as a community can do in response to the stories we can no longer ignore. Proceeds go to Better Opportunities, Inc. More info here.
Quixote in Kabul, a musical and dramatic spectacle centering on the inner journey of an American soldier in Afghanistan whose experiences strangely strangely mirror those found in Don Quixote. Featuring a new script by Danny, directed by Megan Sandberg-Zakian. Flamenco dances and sorrowful songs, Turkish rhythms and chants, and Renaissance European music intertwine as the story unfolds, evoking parallels between the geopolitical and religious strifes of Cervantes' time and those of our own. Part of the series Cervantine Stories, Quixotic Moments, celebrating the 400th anniversary of the publication of Part II of Don Quixote de la Mancha (1615-2015). Thursday, April 16 at 7:30 at the Tsai Performance Center at Boston University, 685 Commonwealth Avenue, Boston. Free and open to the public. RSVP on facebook!
 _________________________________________________________
Other recent news:
This past October, I had the pleasure of playing George Gibbs in a site-specific staged reading of Thornton Wilder's Our Town, directed by Megan Sandberg-Zakian.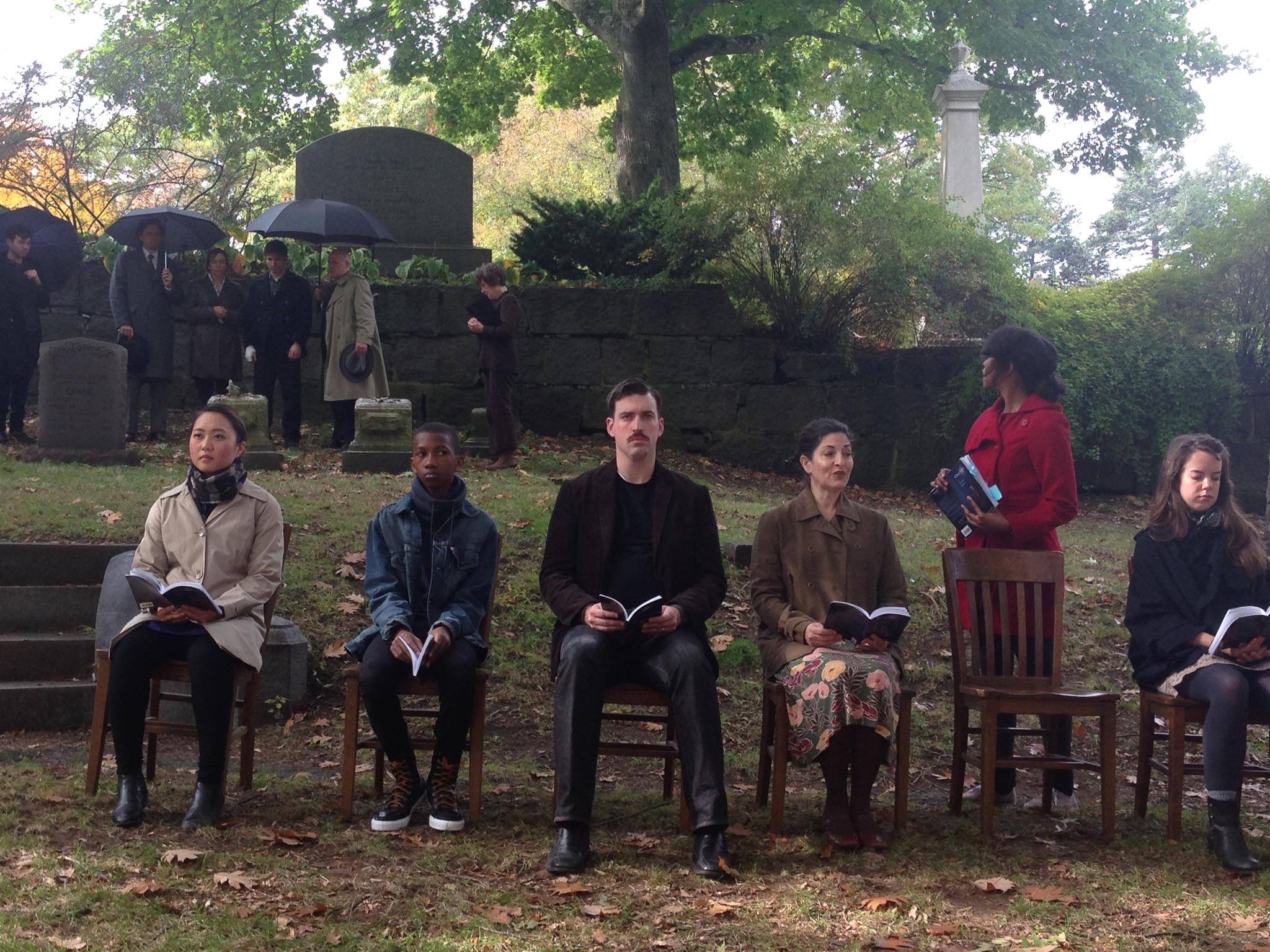 ~~~
In April and May, I joined director Megan Sandberg-Zakian once again at Underground Railway Theater, for the world premiere of Sila, a play by Chantal Bilodeau about eight characters – including a climatologist, an Inuit activist, and two polar bears – finding their values challenged as they grapple with a rapidly changing environment and world.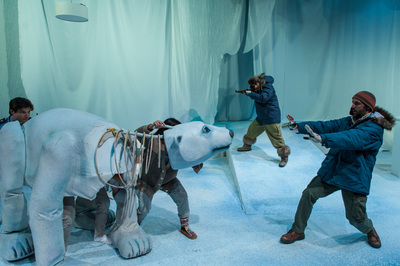 ~~~
In February and March of 2014 I returned to Actors' Shakespeare Project for their production of Anton Chekhov's
The Cherry Orchard
, at Pine Manor College in Brookline, directed by Melia Bensussen. 
~~~
In June, I joined The Civilians for their show Be the Death of Me, a new interview-based installation performance about life and death in New York City.
If you missed it, you can check out the trailer here and some of the interviews and on their blog.
~~~
This past May, I had the privilege of performing alongside Danny Glover in "Roots of Liberty," a historical pageant celebrating the Haitian Revolution and its effect on the American Civil War and Emancipation. The pageant featured an original script, a choir, Afro-Caribbean band Zili Misik, Haitian folkloric dance troupe Jean Apollon Expressions, puppetry, the 54th Massachusetts Volunteer Regiment Re-enactors, and a fantastic cast of Boston actors, and was directed by Megan Sandberg-Zakian, who also directs No Room for Wishing. See the full video at the website for "Freedom Rising," the historical conference which co-produced "Roots of Liberty" with Central Square Theater.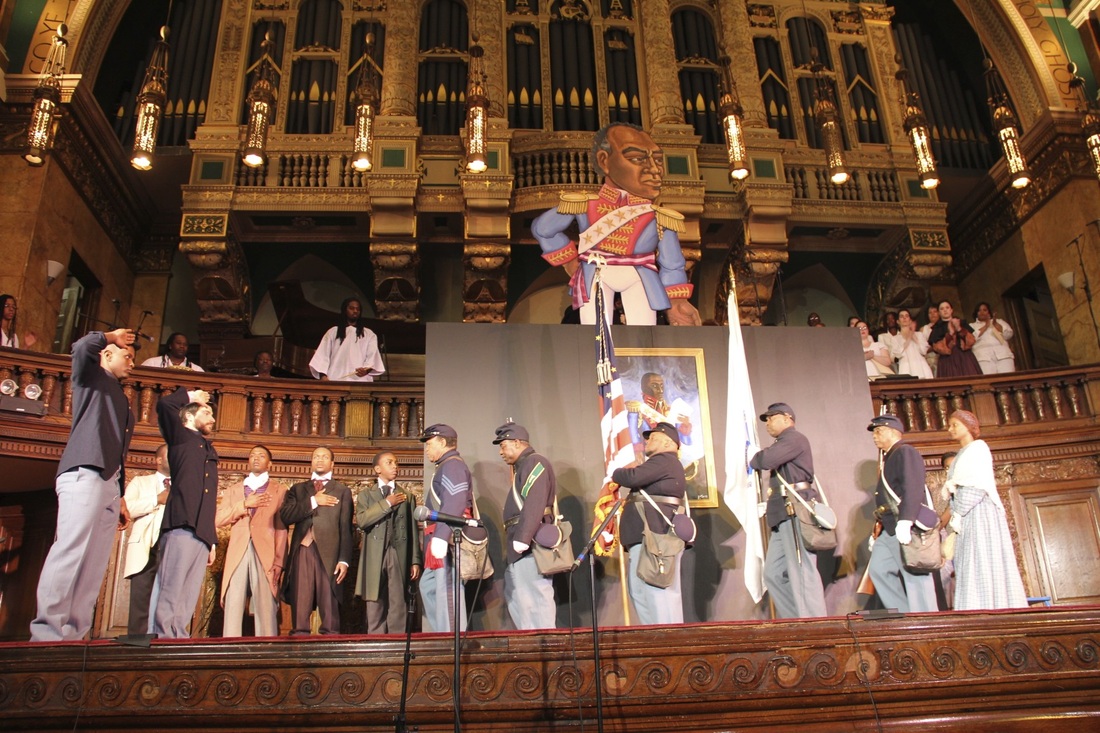 ~~~
Check back for more updates!